20
Jul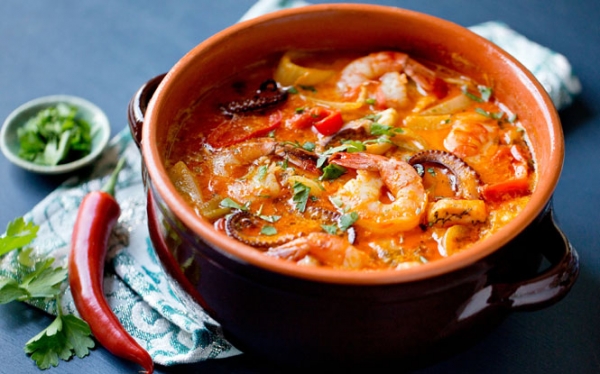 10 must-try Brazilian Dishes
With the focus on Rio as the Olympics head to sunny Brazil, channel the spirit of the host nation with a taster of their favourite dishes.
Feijoada
In a country the size of Brazil (world's fifth largest at 8.5 million square kilometres), regional specialities vary. But feijoada is an exception and is an example of a Brazilian dish that's eaten up and down the country. Made with black beans, sausages and pork, this filling stew sometimes contains trotters and other similar cut. As it takes time to cook it well, it's one of those dishes many Brazilians go out to eat.
Coxinhas
Snack food is popular in Brazil, especially at the bar with a drink. Coxinhas are one example. These fried balls are usually made with chopped chicken, onions, parsley and often a creamy 'requeijão' cheese, coated in batter then fried, usually in the shape of a chicken leg. Variations include ones filled with just cheese or maize.
Moqueca
The best food is often the simplest. For seafood lovers, it's all about the moqueca, a Brazilian fish stew, traditionally slow-cooked on a clay pot. At its most rustic, it's fish and seafood with onions, coriander and diced coriander. There are two main regional variations with the more filling version cooked by the Baianos who use palm oil, coconut milk and peppers, while the Capixabas omit the coconut milk and add annatto seeds, a natural red food colouring.
Cachaça
You've probably had this in a caipirinha cocktail - cachaça is the fermented sugarcane juice which gives your cocktail that 'hit'. But you can enjoy cachaça straight-up too, and there's no problem finding good-quality cachaça spirits in Brazil. It's a bit like white rum, but while that's usually made from processed cane, cachaça comes from unprocessed cane juice, and as a result has a herby, grassy taste.
Pão de queijo
For bread and cheese lovers, look no further than Brazil's very own cheese bread, pão de queijo. Have it for breakfast, lunch, dinner, snack, midnight munchies… The bread is usually made from tapioca flour (which means it's naturally gluten-free) plus eggs and grated Minas cheese, then rolled into little balls. It's more-ish to the point of ridiculous.
Acarajé
This deep-fried dish is not the healthiest, but it's very tasty. These patties are made with black-eyed peas, onions and palm oil, and deep-fried, before being stuffed with bread, nuts, dried shrimp and a spicy prawn puree. It's a dish from Bahia in northeast Brazil, and is a delicious street food, served hot and fresh off the pot.
Açaí
Often found in health shops, you might already be familiar with the açaí berry, an Amazon rainforest 'superfood'. In Brazil, you'll find it everywhere. It might be used to make a sauce served with fish, in sorbets and ice creams, turned into juice and smoothies, and you'll even find açaí beer and açaí-flavoured spirits.
Salpicão
There's chicken salad and then there's salpicão. It's definitely not minimalist – expect to find some variation or all of apples, raisins, ham, olives, carrots, olives, mayonnaise and lime juice in this filling, flavoursome salad. It also works well as a sandwich filling too, and may be served with potatoes.
Brigadeiros and Beijinhos de Coco
There's definitely a sweet tooth in this country. Brigadeiros are a national favourite – you'll find these chocolate truffles made with condensed milk and covered in chocolate sprinkles at almost every celebration. Also popular are the coconut truffles, known as Beijinho de Coco.
Maria mole
The literal translation is 'soft Mary' due to the marshmallow resemblance of this soft Brazilian dessert. Made with sugar and gelatin, and sometimes egg whites, this coconut treat, sometimes flavoured with strawberry, is another favourite with this sweet-toothed nation.
Bom apetite!