07
Dec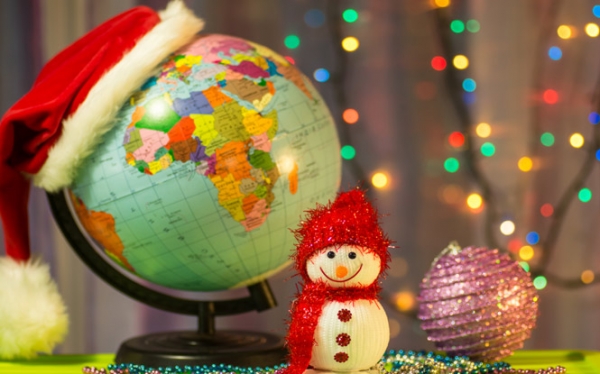 12 Travel Gift Ideas for Christmas
It's that time of the year again when you start looking for a Christmas gift for the avid traveller in your life. If you are not sure what are good gifts for backpackers and people with a serious case of wanderlust in their life, then take a look at my 12 travel gift ideas for Christmas. I have focused on small and lightweight items because the number-one rule in packing for a trip is to pack lightly. I also put an emphasis on gifts that are practical and in some cases extremely affordable. Give the traveller in your life a useful Christmas gift for upcoming trips in 2017 that won't weigh them down.
1. Bluetooth Speaker
Really useful item for those who double their phone or portable device as a music player. The Archeer outdoor portable Bluetooth speaker with microphone is a good budget choice and can be found online for around £20. It's waterproof and the built-in MIC will allow you to chat if your hands are too wet to answer your phone. If you want to spend more go for the best with Bose, offering full sound in a compact package.
2. Headphones / Earphones
For travellers who love their music or podcasts, a decent pair of headphones or earphones can make a world of difference when on the move. A good pair of Bose headphones/earphones is an excellent gift for any traveller. Noise-cancelling headphones are a good choice for travellers who don't want to hear anything other than their music. Perfect for travellers who want to sleep on a long flight or are sensitive to external sounds such as a crying baby. Leading active noise-cancellation brands include Bose and Sennheiser. Wireless headphones are a trendy option and the Jaybird X2's, Kinivo, and Bose wireless models (QC30 and QC35) are top of the line. The wire-free noise-cancelling headphones from Bose (QC35) really do deliver. Find out whether the recipient prefers over-ear headphones or in-ear headphones (earphones) before you make a purchase. Good sound quality can be found in many cheaper brands.
3. Headphone Splitter
If travelling with a friend or partner, a headphone splitter allows two people to watch a movie or listen to a podcast together while in transit. You simply plug the end of the splitter into your phone or device and you suddenly have two headphone jacks! Say goodbye to playing the "left ear for you, right ear for me" game! This is one of the cheapest gifts on the list and can be found online and on the UK high street for a £1 (Poundland). The perfect mini-gift for the Christmas tree.
4. Universal Travel Adapter
A travel adapter enables travellers to power-up their devices virtually anywhere in the world. An essential travel accessory. Some travel adapters have USB ports so you can leave behind each specific adapter for your phone, tablet, etc. A real space-saver! If you know someone with a sack full of different power converters, this is the gift for them.
5. Travel Towel
Travel towels are a very practical gift. The micro-fibre towels are soft, super absorbent, lightweight, compact, and dry in a flash. A large size towel can double as a blanket during long train rides or chilly bus trips. They can also double as beach towels. An absolutely essential travel item and a god-send for backpackers.
6. Travel Belt Wallet
A travel belt wallet is an excellent way of storing cash in a very secure hiding place. Especially useful if travelling through countries with greater security risks. Keeping money out of sight or having an emergency stash somewhere on your person is a sensible precaution. Other products that essentially to the same thing include the silk undercover bra stash (a discrete under clothing solution designed for women), travel bras (or travel trunks for the guys), and travel scarves. Both Sholdit and the Speakeasy Travel Scarf have hidden pockets.
7. Solar Keychain Flashlight
A wonderful budget mini-gift for travellers to carry on a keyring or easily fit in pocket or purse. Three powerful LED lights are nice and bright. This compact flashlight can be charged quickly and operates for many hours on a full charge. Owing to the fact you're charging the batteries for free via the sun this is an efficient and environmentally friendly gadget. You can pick these up for less than a Pound!
8. Combination Padlock
Small padlocks are essential when travelling to keep baggage safe on public transport or when a bag is out of sight. A combination lock allows you to choose your own memorable numbers and eliminates the problem of a lost key. The lock can double-duty as a lock for a room or locker. Lock all valuables in a bag if no safe is provided. An inexpensive and extremely useful travel gift.
9. First-Aid Kit
It is advisable to travel with a medical kit that includes essentials for accidents and emergencies out on the trail. A waterproof and ultra-lightweight medical kit is the .5 Ultralight Adventure Medical Kit. The .7 Kit is worth consideration for longer trips.
10. Portable Water Bottle
Having your own water bottle is a great way to save money while travelling by not having to buy bottled water. This is a nice gift for the eco-conscious traveller, as it eliminates the need to buy one-use bottled water, and reduces plastic waste. The Platypus plusBottle is a good choice because it's lightweight and rolls-up saving space. Just fill it up when you need it, roll it up and pack away when empty. Another option is a Lifestraw water purifier. This product cleans water from dubious supplies (steams, bathroom taps, etc) so it's safe for drinking.
11. Travel Insurance
Travel insurance is a great gift for travellers because it's something they need and often begrudge spending money on. It's not the most sexy travel gift idea but is of vital importance. Anything can happen while travelling so you need to be protected. If you can't decide which insurance plan is best consider travel insurance with WorldNomads. They cover emergency overseas medical treatment and evacuation transportation, trip cancellation, and even lost or stolen items.
12. Travel Treats
A seasoned traveller may already have all their favourite travel gear and insurance. So what do you get this well-stocked breed of traveller? How about treating them to an experience based on their travel plans? Many avid travellers tend to value experiences over travel gear anyway. Whether it's a language course, yoga retreat, cooking class, music festival or tour package, give them an experience they'll love and look forward to when on the move. You could even offer to pay for some accommodation or buy a gift card to a hostel. That would be a fantastic Christmas present. There is also the option of buying a generic gift voucher (e.g. Tinggly) where the recipient can choose their own experience from hundreds of activities worldwide.
Mini Bonus Gift
Cord Tacos - a simple concept but a useful way of storing your earphones and preventing them from getting tangled into knots. They are taco-shaped, hence, the name Cord Tacos.
Fun Bonus Gift
Carry-On Cocktail Kit - these kits are fun and provide all the ingredients and tools to mix up a Gin and Tonic or Moscow Mule in-flight.
Selfless Bonus Gift
A Charitable Donation - for the traveller who has absolutely everything how about doing something for people and planet? There are thousands of great non-profits that need donations such as Bikes Not Bombs. This wonderful non-profit collects used bicycles and parts, and ships most of them overseas to economic development projects through their International Programs in Africa, Latin America, and the Caribbean. A donation in your recipient's name will come with a gift card and the knowledge that they have contributed to a good cause.
Other Travel Gifts
Here's some travel gift ideas that didn't make the list above but could really make someone's Christmas: LED Headlamp; Waterproof Phone Case; Portable Power Bank; Packing Cubes; Dry Bag; Hackproof Wallet; RFID sleeves (prevent electronic skimming and stealing of your financial information); Book; Paid Online Cloud Storage (to store files in the cloud); Pocket-size Drone (could be the hottest thing to buy traveller's in 2017!).