16
Jun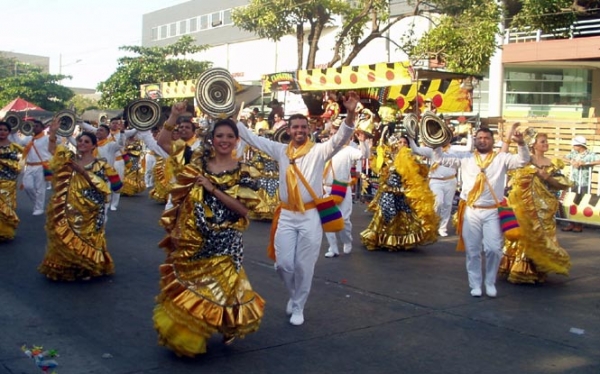 Barranquilla Carnaval Tips
Every year in the industrial port town of Barranquilla you can witness Colombia's biggest party. National and foreign tourists come together for four days of intense drinking, music and dancing. It is the second largest Carnaval in South America after Rio de Janeiro in Brazil. It is fair to say Barranquilla Carnaval is a bit more rough around the edges than its counterpart in Rio; however, it's a good opportunity to let your hair down and experience the cultures of the Caribbean coast.
The main parades are held on Via 40 and each has a different theme. It is estimated over half a million 'paraders' go down the long avenue over the course of the four day festival. The biggest parade occurs on day one - La Batalla de Flores (The Battle of Flowers) - where massive floats and sound systems rouse the crowd and get the party started. The route is broken into sections, each rented out by different businesses. The private sections are divided up into Palco's (large seated viewing areas) and Mini-Palcos (small seated viewing areas). The former provides the best seats to witness the action and argubly the best food. Outside of the major parades, street parties take place throughout the town and can go on late into the night.
If you plan to be in Colombia four days before Ash Wednesday here are some planning tips and need to know basics to make the most of the experience:
1. Accommodation - Reserve a room/bed far in advance of Carnaval. Pay attention to the location to avoid being based in a seedy area or far from the centre of the action.
2. Arrival - Turn-up the night prior to the start Carnaval to get acquainted with the town and enjoy and opening party.
3. Tickets - If you want to enter a 'Palco' book tickets in advance on the official Carnaval website or through a ticket agent. Some hotels and hostels reserve tickets for their guests. Tickets can also be bought of touts outside relatively easily if you arrive early enough and are prepared to haggle. You may have to pay more than the face-value of the ticket if you want to attend the first and main day of Carnaval. Note: tickets are valid for all four days.
4. Free Entry - If you don't want to pay to enter a 'Palco' you must turn-up at least 3 hours before the start of a parade, particularly on the main day. There is limited free seating in the public areas and a few reasonable vantage points on the route. Try the area around the end of Calle 76.
5. Position - Choose a Palco or vantage point between start and halfway point of parade because the performers start to 'flag' at the latter stages because of the heat and sheer length of parade route.
6. Safety - Keep an eye on your possessions and steer clear of unsafe barrios, particularly after dark. Consider substituting an expensive camera or phone for a cheaper model during Carnaval. Leave valuables in your room and carry little cash.
7. Travel - If you want to fly in and out of Barranquilla book your tickets in advance. Other entry/exit points by air include Santa Marta and Cartagena but you will need to complete your journey by bus (2-3 hours). Bus tickets can be reserved online at BusBud (busbud.com).
8. Food - If you are a vegan Barranquilla is a challenging town for dining out. Consider taking some supplies to Barranquilla or find a good food store on arrival. A hostel with kitchen facilities will make your stay easier. There is a vegetarian restaurant and some 'veggie' food on standard menu's for those with 'meat-free' dietary requirements. Street food is predominantly a 'meat-fest' but there are a few options such as 'arepa de huevo' (a round of fried corn bread that contains an egg) and 'obleas' (a large round thin wafer that comes with a topping/filling).
9. Guides - A few hotels and hostels employ a guide for their guests during Carnaval. They chaperone guests to various events and street parties throughout Carnaval. A good option for some travellers.
10. Air-Con - If you are adverse to sweltering heat and find it difficult to sleep in such circumstances, ensure you reserve a room with air conditioning.
11. Sun Protection - Slap on some sunscreen and wear a hat during the day as Barranquilla is notable for its hot and humid weather. One major advantage of paying to enter a Palco is shelter from the sun during the hottest part of the day.
12. Clothes - Don't' wear your best clothes as they could get messy or ruined. There is a good chance you could get covered in foam or flour. Tourists are often targeted by Carnaval revellers. Consider dressing up for the event. The are vendors throughout the town selling costumes and accessories.
13. Water - Stay hydrated with plenty of water between rounds of drinks.
14. Attitude - The motto of Carnaval de Barranquilla is "Quien lo vive, es quien lo goza" (Those who live it are those who enjoy it). Put you dancing shoes on and enjoy yourself!