05
Jan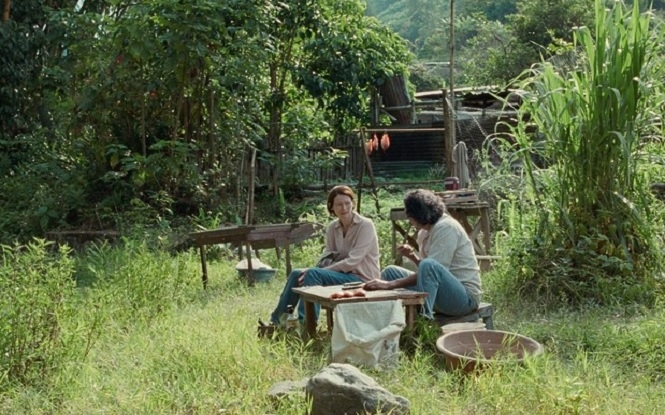 Colombian Film 'Memoria' Starring Tilda Swinton
Winner of the Jury Prize at this year's Cannes Film Festival, and nominated for the Palme d'Or, Oscar-winner Tilda Swinton (The French Dispatch, The Souvenir) stars in Apichatpong Weerasethakul's meditative exploration of memory and the human condition. The Guardian describes the film as "slow cinema that decelerates your heartbeat", saying the actress and director make a "dream team".
It's a film that starts with a literal bang, as Swinton embarks on a lyrical and profound journey into the senses that Indiewire describes as "a transfixing deep-dive into the profound challenges of relating to people and places". The journey leads to an unexpected and extraordinary revelation where, as the actress herself explains, "all the wisdom in the world is being revealed to this person at this moment".
Weerasethakul's Uncle Boonmee Who Can Recall His Past Lives won the 2010 Cannes Film Festival Palme d'Or prize at the 2010 Cannes Film Festival, and Tropical Malady won a jury prize at Cannes in 2004; MEMORIA is his long-awaited first English language feature shot outside his native Thailand, and his most accessible film to date - which had its UK premiere at the BFI London Film Festival on October 16th, at a sold-out special screening.
Synopsis: Visiting her sister in Bogota, Jessica (Tilda Swinton) is awoken by a loud bang, audible only to her. Restless and disoriented, she roams the city in search of an explanation for the mysterious sound, becoming immersed in the aural richness around her – whispers in a hospital room, sound effects playing in an editing studio, indiscreet noises from a city square. Despite being present throughout, Jessica's motives remain opaque and her encounters enigmatic. Soon she begins to confront the unsettling sights and sounds that call her identity into question.
The new Colombian film Memoria starring Tilda Swinton is due for release in UK cinemas on 14 January 2022.