08
Sep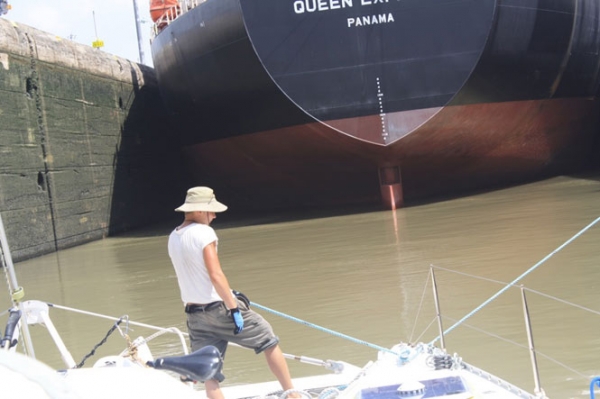 How to Cruise the Panama Canal for Free
Looking for a unique and free way to transit the Panama Canal? If the answer is yes you should consider volunteering as a line handler.
Panamanian law dictates that every boat, no matter how small, must have four line handlers when it makes a crossing of the Panama Canal – two on the bow and two on the stern.
Since professional line handlers can cost between US$50-100 per transit, many captains are prepared to give fellow travellers a free passage in exchange for working aboard.
We were offered jobs as line handlers by a lovely French couple aboard a beautiful 40' catamaran when we last visited the Panama Canal.
You do not need any training or boating experience to be a line handler. You just need to be able to catch a half-inch leader line, tie simple knots, and follow orders.
When a boat transits a lock, the boat must be kept in the centre of the lock, and this is done by lines and those that handle them – line handlers. Imagine a square hammock with a rope at each corner holding the hammock steady and centered.
It takes about forty-five minutes to go through a lock and about twelve hours to transit the whole Canal (50 miles). As there are only three locks (Miraflores, Pedro Miguel and Gatun) this means a good nine hours of taking pictures or whatever else your heart desires.
If you are interested in being a line handler go to the Balboa Yacht Club at the Pacific entrance to the Panama Canal, the Pedro Miguel Boat Club next to the Pedro Miguel Locks, or the Shelter Bay Marina on the Caribbean side.
Ask around the boats and perhaps put up a notice. Captains check the bulletin boards at these yacht clubs for notices posted by anyone wanting to line handle.
Sadly, the Panama Canal Yacht Club in Colon was demolished in 2009; hence, the only option on the Caribbean side is currently the Shelter Bay Marina. This marina is about a 30 minute taxi ride from Colon.
The number of boats travelling each way is dictated by season, boats tend to be heading from the Caribbean to the Pacific during approximately January to May.
A cautionary note - in Colon muggings are a real threat, even in daylight. One should avoid walking anywhere outside of the yacht club and all shopping should be done by taxi. We recommend you plan ahead and get out of Colon as quickly as possible.