28
Feb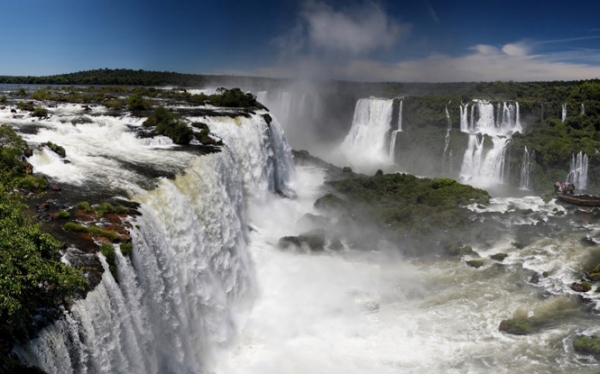 Discover Latin America
Think Latin America, and you think vast swaths of the Amazon Rainforest, the colour of Carnival in pulsating Rio de Janeiro, and the magnificent ancient Inca city of Machu Picchu. These are undoubtedly top attractions but it's far from the whole picture.
Latin America – which includes Mexico, Central and South America – is a vast region of the world is made up of 21 countries, stretching from northern Mexico to the southern tip of Argentina. It's not just the scale that makes it one of the most impressive regions on Earth. There are mighty rivers and breathtaking wilderness areas, but also pre-Columbian civilisations and vibrant new cultures. Latin America truly offers something for every interest and its top attractions are some of the most fascinating and memorable on the planet.
The highlights of a trip to Latin America will of course depend on what you like most. Some people prefer to explore archaeological sites such as the towering Mayan pyramids of Tikal in Guatemala, while others want to experience the energy and excitement of traditional local markets in Andean communities that have barely changed for centuries. Whether you aim to climb to the summit of a volcano, dive among pristine coral reefs or simply laze on unspoiled beaches, Latin America provides all the ingredients for the perfect holiday or adventure.
Whatever images one has of Latin America, they most probably fail to capture the astonishing blend of cultures and people. This richness in diversity has no equal among other territories of the globe. The fusion of indigenous, African and European tradition had lent a great richness to
Latin American culture, notably in literature and music. Music is considered a staple in the Latin American diet - feeding and replenishing the soul. Latin music is laden not just with passion, sentiment, happiness and anguish, but with history and nostalgia. If you find yourself in Buenos Aires, there is nothing like stepping back in time at a traditional Milonga hall. Like music, dancing is a huge part of the culture in Latin America. You will find a wide variety of culturally enriched dances that reflect the origins of its people.
One of the real highlights are the indigenous people of Latin America. You will see descendants of pre-Columbian civilisations in the mountain areas of Ecuador, Peru, Bolivia and Guatemala. The latter two countries still have majority indigenous populations. Some indigenous groups such as tribal peoples of the rainforest have lived the same way for thousands of years, untouched by outsiders. What sets indigenous people apart from 'mestizos' - people of mixed indigenous and European descent - is their tendency to hold on to traditional culture such as dress, religious beliefs and language. What clues them together is a history upheaval, separation and exploitation. Poverty, inequality and loss of land are some of the issues facing the indigenous people of Latin America today. Whether you seek out Mayan culture in the Lake Atitlan region of Guatemala, or native customs in the small Ecuadorian town of Pujilí in the Andes, you will marvel at the unique sights and sounds of their culture.
'Foodies' will find various local delicacies throughout the region, ranging from Baleada in Honduras to Curanto en Hoyo in Chile. Travellers will enjoy the vibrant tastes of Latin culinary, from indigenous cuisines to ingredients and recipes introduced by Europeans and other immigrants. One country your taste buds will thank you for visiting is Mexico. Mexican food is like no other cuisine and the subtle range of Mexican fare from the enticing and aromatic to the hot, bold and fiery means it is never dull. Authentic traditional Mexican cuisine offers something for everyone. One of the prevalent native ingredients in Mexican food (chilli peppers) can now be found in almost every major cuisine worldwide. Other foods Latin America has given the world include avocado's, corn, potatoes, tomatoes, peanuts and chocolate. These native foods have changed the entire culinary landscape of the planet.
Culture vultures can transport themselves into the heartlands of the Maya, Aztec and Inca civilisations. Architectural wonders abound in Central and South America. The most famous Mayan sites are Tikal in Guatemala, Chichen Itza in Mexico, and Copan in Honduras. Machu Picchu is Latin America's most famous and spectacular archaeological site, and deservedly so, but there are other sites worth exploring such as the ancient adobe city of Chan Chan on the coastal plain of Peru. It was the seat of the ancient Chimú civilization before it fell to the Incas. If colonial architecture is your thing check out San Cristobal de Las Casas in Mexico, Antigua in Guatemala, Granada in Nicaragua, Cuzco in Peru, Sucre in Bolivia, Cuenca in Ecuador, Ouro Petro or Paraty in Brazil, Barichara, Villa de Leyva or Cartagena in Colombia. There are numerous other cities where you can find well preserved examples of colonial architecture.
Latin America is a geography class brought to life and its natural features include pampas grasslands, rainforests, fjords, deserts, and of course the mighty Andean mountain range. The world's longest mountain chain provides some excellent opportunities for climbing and trekking in addition to some breathtaking scenery. The hikes to the ancient Inca city of Machu Picchu in Peru and the jagged peaks of Torres Del Paine in Chile are classic destinations for walkers.
The Andes are not South America's only natural superlatives; the continent also contains the world's largest rainforest, mightiest river system, driest hot desert, tallest waterfall, highest lake and greatest freshwater wetland. It's the incredible variety of locations, landscapes and
habitats that makes Latin America so extraordinary. No other region on Earth presents such an assortment of natural wonders, including: Iguazu Falls (Argentina / Brazil); Salar de Uyuni (Bolivia); Perito Moreno Glacier (Argentina); Angel Falls (Venezuela); Torres del Paine (Chile); Amazon River (Brazil); Atacama Desert (Chile); Mount Roraima (Venezuela); Colca Canyon (Peru); Lake Atitlan (Guatemala); Mesoamerican Barrier Reef System (Belize / Honduras); Gran Cenote (Mexico); Corcovado National Park (Costa Rica); and the Galapagos Islands (Ecuador).
For wildlife enthusiasts, the most bio diverse area of the world awaits, with Bolivia, Brazil, Peru, Ecuador and Colombia all offering access to the mighty Amazon. Better still, are the rainforests found in French Guiana, Guyana, and Suriname. This little known corner of South America is blanketed by thick, lush, and undisturbed rainforests. 80% of Suriname is tropical rainforest, much of which is a Unesco World Heritage Site. The rainforest represents Mother Nature at her most exuberant and spectacular. Tropical forests cover only 6% of Earth's land surface, yet they harbour at least 50% of all earth's species.
Despite their size, countries such as Belize, Costa Rica and Guatemala also offer fantastic opportunities to observe wildlife in their natural surroundings. The single major source of foreign exchange in Costa Rica these days is not coffee, timber or beef – it is ecotourism. Costa Rica is famous for its enlightened approach to conservation and has probably the greatest range of accessible flora and fauna in Central America. One such example of this observable fact is Corcovado National Park on the Península de Osa. During our 3-day trek through this magnificent tropical forest we observed a wide variety of fauna which included agoutis, blue morphos butterflies, land crabs, coatimundis, iguanas, leaf-cutter ants, monkeys, peccaries, scarlet macaws, toucans and two tapirs.
Although the rainforests have all the fame and glory, the seasonally flooded landscape of the Pantanal has the greatest concentration of wildlife in Latin America. Millions of caimans coexist with anteaters, anacondas, armadillos, brilliant hyacinth macaws, capybaras, egrets, giant river
otters, jabiru storks, jaguars, macaws, maned wolves, marsh deer, pumas, rheas, and tapirs. This vast area of wetlands, about half the size of France, lies mostly in Brazil, but also extends into the border regions of Bolivia and Paraguay. Even if you are remotely interested in wildlife, the Pantanal is one of the best places in the world to visit.
Other areas and parks worth noting for actual sightings are Esteros del Iberá (Argentina's biggest unsung attraction), the Belize Barrier Reef (the longest barrier reef in the Western Hemisphere and the second largest in the world), Patagonia (a trip to Peninsula Valdes on the Atlantic coast of Argentina in late February or early March could be rewarded with one of the greatest wildlife spectacles of them all - Orca's launch themselves out of the water onto the beach in an attempt to catch sea lion pups), and of course the Galapagos Islands (a magnificent array of endemic and remarkably tame animals form an out of this world spectacle of wonderment to the human eye and senses). The Galapagos Islands are surely on every wildlife enthusiast's 'bucket list' of places to visit.
From the evidence cited above, it's easy to understand why Central and South America have become firm favourites of travellers seeking something new. Increasing numbers of people are now travelling to Latin America rather than other exotic locations. People want to see the
legendary natural wonders and experience this magnificently diverse group of countries for themselves. Whatever your reasons for going, Latin America will offer you more excitement, contrast and mystery than you could experience in a lifetime of travel. I hope some of you have been sufficiently inspired to experience Latin America for yourselves.
If you are a nature and wildlife enthusiast you should seriously consider volunteering during your trip. This guarantees close encounters with the flora and fauna of Latin America, and you can choose a species, habitat and location that particularly interests you. If you do not plan to do any environmental, conservation or wildlife related volunteer work, you should not arrive in Latin America with unrealistic expectations. It is better to go there with the attitude of enjoying and learning about tropical ecosystems - climate, topography, flora and fauna. That way, the animals you do see are pleasant surprises, not necessities for a successful trip.