21
May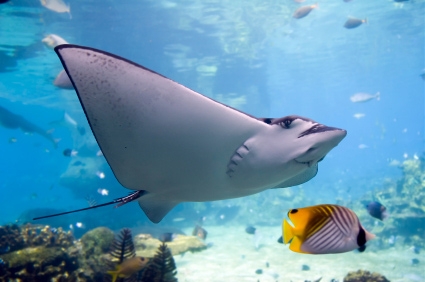 Best Diving Sites in Latin America
The sheer variety and number of exceptional dive spots would take pages to cover, but here's a taster of what's on offer in Latin America.
The cenotes of Mexico
For fans of cave diving, the sinkholes or cenotes found in the Riviera Maya are hard to beat. Cenotes are inland freshwater caves where you can swim, snorkel and dive among stalagmites in the clearest water imaginable. There are numerous cenotes around Tulum and Playa del Carmen, most within easy access. For experienced divers, one of the most highly rates cenotes is Angelita in the jungle where divers swim through a sulphur cloud before hitting the clear waters of the cenote about 40 metres below.
Wildlife diving in Argentina
Dolphins, whales, sea lions, penguins and elephant seals are some of the treats on offer along the Peninsula Valdes, an official marine wildlife reserve along Argentina's east coast. Some divers have even reported hearing whale song throughout their dive with July to November the best time to spot whales. Most dive companies are based either in Puerto Madryn, an hour from the reserve, or in Puerto Pyramides, a pretty town inside the reserve.
Striking gold in the Galapagos
The Galapagos Islands were the first place to be awarded marine Heritage Site status by UNESCO. Whale sharks appear from May to November, with huge schools of hammerheads visible year round and encounters with turtles, orcas, dolphin pods, eagle rays, marine iguanas, manta rays and moray eels are easy to come by. For many, liveaboard trips visiting the dive spots off islands such as Darwin and Wolf provide the ultimate five-star diving on the continent.
Honduran adventures
Shallow reefs and tiny caves dot the Cayos Cochinos archipelago off the coast of Honduras. The HCRF Marine Research Centre is one of several organisations who offer dive expeditions to this protected marine park which teems with seahorses, squid, octopus and rays. One of the most popular spots for certified divers is Roatan Banks while Lion's Head also attracts many to its fantastic coral collection. The islands are inhabited by Garifuna or Black Carib fishing communities so choose local dive companies who arrange lunches and boat trips with them.
Belize beauties
You're spoilt for choice, but Belize's outer atolls are spectacular. Comprising of Lighthouse Reef, Turneffe Island and Glover's Reef, which lie 30 to 60 miles off the mainland, the coral rings offer pristine visibility with fantastic coral, schools of fish and impressive tunnels to swim through. April and May are prime for whale sharks at Glover's Reef while The Elbow at Turneffe Island is a highly rated wall dive. However, the most famous spot for experienced divers is the 412-foot-deep Blue Hole through Lighthouse Reef, once navigated by Jacques Costeau back in 1970.
Venezuela
On the same latitude and in the same sea as the Caribbean islands of Aruba, Bonaire, Curaçao and Tobago, Venezuela's Los Roques archipelago is a ring of islands around a shallow lagoon. The oldest marine park of the Caribbean, its underwater ecosystem is home to hundreds of fish species including spotfin butterfly fish, parrot fish and barracudas, plus rays, turtles, mollusks and the queen conch. Diving suits all levels from shallow reefs to steep coral walls and caves, with the most famous site being The Stone of Guaza mountain on the ocean floor, the bright corals of Boca del Cote and Boca del Medio, and the deep ocean trench known as Tongue of the Ocean.