31
Jul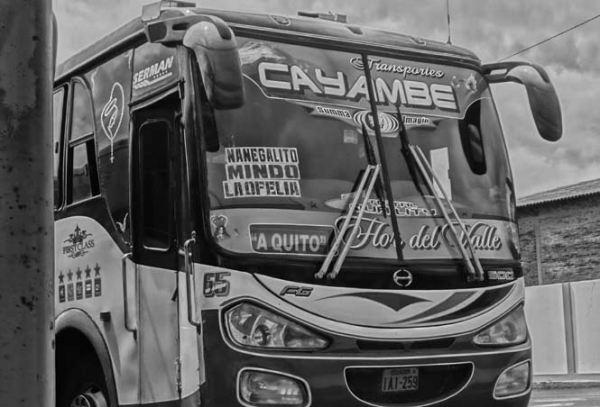 Bus Culture in Ecuador
Planning a trip to Ecuador? Thinking about what books to take for all those long bus journeys? Forget it – on these buses you won't be stuck for entertainment!
Everyone knows that taking the bus in Ecuador is the best way to travel, it´s economical and you see more of the country. It gives you the freedom to visit all those places you fancy going to – the ones on your itinerary as well as those unplanned trips!
The main thing that you will realize when you inevitably have to take your first journey of many is that they are a lot more fun than normal bus rides. Before you're even underway you´ll appreciate from the bright colours, the garish designs and in many cases the lack of a door on your proposed transport for the next few hours, that it´s going to be a journey with a difference.
From start to finish your ride on an `autobus´ can be a slightly surreal experience. From the hours of non-stop funky Latino beats blasted over the stereo, to the strange mixture of fellow passengers hopping on and off in what appears to be the middle of nowhere, and the bus conductor hanging out of the window shouting ´¡vaya!´ at the driver as the bus careers round tight corners you´ll start wondering how you ended up here!
Despite the occasional road safety issue, you´ll learn that the buses have a charm all of their own and their somewhat erratic nature of stopping randomly could help you get out of a tight spot if you flag them down whilst running late.
Try not to be intimidated by the variety of bus companies available at bus stations in Ecuador; it can prove to be quite stressful with company representatives approaching you for different destinations trying to fill up their seats (if you´re not careful you might end up somewhere you didn´t intend to go!). However, from personal experience the buses in Ecuador are reliable, regular and rarely late, so if you keep your wits about you and are willing to embrace the strange and always entertaining nature of the buses you can sit back, relax and enjoy the incredible views.