01
Feb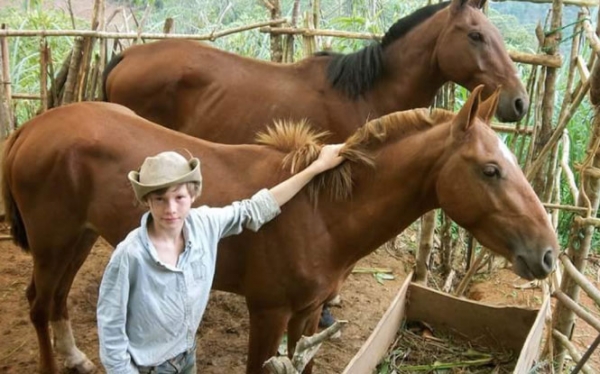 Education Off the Beaten Path
Me and my two sons have recently arrived back in the United States after living 12 years in Costa Rica. We moved to Costa Rica when my boys were very young, so their formative years so far have taken place in the lush tropical lands of this Central American gem.
I wanted my children to have experiences in nature, as well as see and interact with a diversity of cultures. In my pursuit of authentic, down to Earth experiences, we had 12 amazing years of living and learning together in a beautiful country, surrounded by vibrant tropical rainforests, phenomenal people, and magical places.
From a young age my boys were running through the rainforest, learning to identify medicinal plants and wildlife, wield machetes, speak Spanish, plant and harvest food, raise animals, make compost, build houses, make fires, and so much more. We explored ancient rainforests, ocean beaches, mountain heights, majestic waterfalls, and magical caves. We saw parrots and toucans, dolphins and whales, sea turtles and otters, wild cats and coyotes, poisonous snakes and stinging caterpillars, bugs of all colours, monkeys, sloths, anteaters, and more critters I could even mention.
We lived for some time deep in the jungle where no roads went, and we came in to the property by boat or on foot. We lived with solar power for electricity. We could see dolphins swimming in the ocean in front of the lodge. We learned to walk with awareness for possible snakes, spiky trees, or other natural hazards.
Later we lived at another place on the opposite side of the country - down in a hidden valley, surrounded by rainforest and amazing waterfalls. Here we lived in little cabins with half walls and no electricity. It was here we saw the black panther on several occasions.
Later we moved to a farm high in the mountains near the tallest peak in Costa Rica. We built structures from materials grown or made onsite. We had horses, and goats, and chickens, and ducks. We hosted students and travellers from around the world. We grew a lot of food, harvested wild mushrooms and herbs for healing, cooked on wood, hiked big hills daily, and grew strong in many ways.
Over the years we made many amazing connections and friendships. We made friends and lived nearby people from a wide variety of countries and cultures. We collected friends from all over Europe, Central and South America, Canada, Sri Lanka, Korea, China, Israel, Australia, and all over the United States. We made powerful alliances and bonds with many of the local "ticos", and adopted many parts of their way of life and culture while living in their peaceful country. We had many opportunities to learn traditions from indigenous communities throughout the Americas. My children learned about cacao ceremonies and sweat lodges, they met many shamans and healers from indigenous communities, and they learned about ancestral traditions and medicines, as well as peaceful communication techniques, consensus circles, and other community development practices.
Their journey of experiential living also included several additional approaches to education. My sons both attended a Waldorf/Rudolph Steiner-inspired school on the Caribbean coast in our first years in Costa Rica. Later they were students in a community directed homeschool group, had private teachers and tutors, as well as another community founded private school based inside a private intentional community, and online learning programs from home.
The schooling they are now participating in is far different from the years of learning with monkeys and wild parrots talking in the background. The schools they are attending feature many hours of sitting in classrooms, listening to teachers give lessons, taking notes, studying online, and doing hours of homework. I do believe that a wide variety of experiences helps to create a more capable and educated person, so I am supportive of them having this new experience of standard American schooling. I want them to have perspective. I want them to learn from many sources. I am also grateful that their earliest years of learning were amongst the beauty of the rainforest and abundant nature, and that they had the blessings of learning from some of the greatest teachers I could have ever imagined, in unconventional ways.
Travel and exposure to different cultures can be a great benefit to all of us. I highly encourage young adults to take time to travel some before jumping right into college, or find a way to incorporate travel into their education. To see this Earth's natural beauty, to meet many different people and learn about different ways to live, and to learn new skills are all benefits that can truly enrich a person's life. Exposure to new places and new cultures broadens our perspective and helps us to open our minds as well as our hearts. I intend to continue travelling with my children and I hope to continue providing vibrant experiences for them to learn from and grow with. I also am currently working on several exciting projects that help connect people with unique opportunities to have meaningful experiences through travel. These include healing and educational retreats and excursions, as well as help creating personalized experiences in a variety of amazing places. Email zahrahsita@gmail.com to learn more.