17
Mar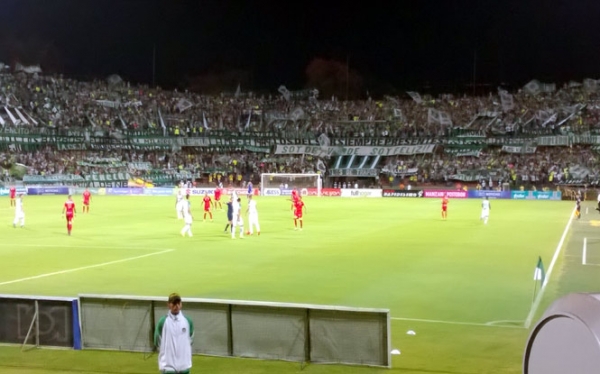 Football: A Unique Cultural Spectacle
If you are a football fanatic one thing you should definitely do when travelling around South America is experience the colour and madness of a football match. I recently went along to see Atletico Nacional v Rionegro Aguilas at the Atanasio Girardot Stadium in Medellin, Colombia, where the home team cruised to 3-0 win under the floodlights. You may remember Atletico Nacional being in the news several months ago but for tragic reasons. Chapecoense players and staff were flying to play Atletico Nacional when their plane crashed in Medellin, killing 71 people. The Brazilian football team were scheduled to play Atletico Nacional in the first leg of the Copa Sudamericana final. Atletico Nacional supporters filled their stadium on the night the two teams were due to play in the Copa Sudamericana final to commemorate those who died in the crash. It was moving to see 45,000 fans chanting 'vamo, vamo Chape' in the stadium to honour those who passed away via social media.
Although the football on the night was mildly entertaining the real winner was the crowd. They sang about their love for the team and their neighbourhood throughout the game, creating a rich and vibrant atmosphere. All driven by the relentless drum beats and rhythms from the band. The band, with big bass drums, trumpets and other percussion instruments, dictates the action. I defy anyone not to feel the energy generated by one of these bands and resist tapping either foot to the infectious music for 90 minutes. The passion of the fans is what separates South American football from many other leagues and fans from around the world. They are louder and more exuberant than the fans, for example, inside Old Trafford, despite having half the people in the crowd. I'll take pulsating samba rhythms over the 'Stretford End' or the 'Kop' in full voice anytime. This is not to say a rousing rendition of 'You'll Never Walk Alone' isn't touching, particularly before a big European game.
You will need to plan ahead if you want to experience a classic South American football fixture such as Boca Juniors v River Plate (Argentina) or Corinthians v Palmeiras (Brazil). Choose wisely as some games will involve fierce rivals and could be marred by off-field violence between opposing fans. If you are in any doubt about which game to go and watch try tweeting Tim Vickery, BBCs South American football expert. Tim is based in Rio de Janeiro and is a regular guest on the BBCs Five Live World Football Phone-in hosted by Dotun Adebayo. Alternatively, jump online and do some research on South American football and upcoming fixtures. Some hostels escort backpackers to games or connect them to reputable football tour companies. Examples in Medellin include the Purple Monkey Hostel and the Black Sheep Hostel. A good option for solo travellers and those concerned about safety. The only downside is you will pay more compared to buying a ticket outside the ground.
Aside from league fixtures, you could coincide your visit with upcoming World Cup qualifying fixtures or Copa America, the main international football tournament for national teams in South America. There are numerous mouth watering fixtures such as Argentina v Brazil, Chile v Argentina, Uruguay v Argentina, and Peru v Chile. This is a good way to see one of Barcelona's trident - Neymar, Messi or Suárez - and other world-class stars in the flesh. It's always fascinating to see how European-based players perform in high altitude locations such as La Paz (3,650 metres above sea level) or Quito (2,850 metres above sea level). I recall attending a World Cup qualifying game between Ecuador and Argentina in Quito and Juan Sebastian Veron (based in Italy at the time) was clearly finding it difficult. Arguably not as tough as his fruitless two-year spell under Sir Alex Ferguson at Manchester United!