31
Aug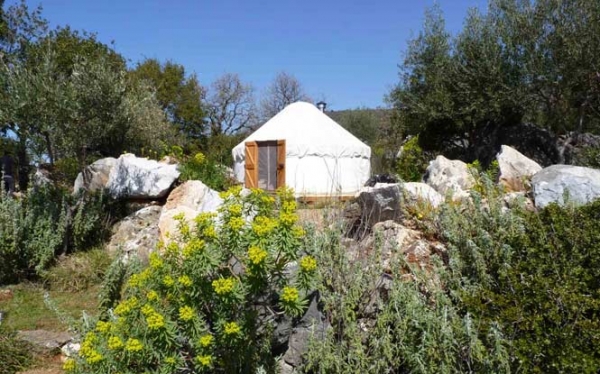 Yurt Life and the Glory of Glamping
There's just something about camping that always feels nostalgic to most people. It's fun, it's outdoors in nature and it's refreshing. However, there's the packing, the challenge of finding a right spot, and the bugs. Luckily though, times have changed, and camping has undergone a makeover which is, of course, the glory of glamping!
The first time I heard about glamping I thought it sounded like another money making gimmick. I got informed and have now become a fan of the new and improved way to enjoy nature in style. It all started with yurts. For those of you who don't know what a yurt is, let me elaborate. A yurt is a type of round tent with a domed roof. They originally came from Central Asia and are associated with nomadic cultures. More often than not, a yurt is different from a tent because they tend to be built on a permanent platform and are made out of some heavy-duty materials to make sure you are warm and safe from the elements. Say goodbye to that crunchy tarp floor and flimsy tent. Yurts often have wooden floors, a heat source such as a wood burning stove, and electricity. There are so many variations with yurts and the interior may be modern or decorated in an old-fashioned way. Whatever the design, within each yurt is a self-contained pod of comfort and awesomeness. Some places you bring your own stuff, other places it works like a hotel. It's still camping, but it's camping luxuriously. Obviously, glamping is a combo of the words camping and glamour. Sometimes you can even find glamping yurt accommodations where the yurts have kitchens and wood-fire hot tubs! Yurt living is where it's at and everyone should consider going for a yurt glamping holiday.
We are all familiar with the classic "rent a cabin" camping, which is fun, yes…but nowadays you can find a glamping cabin and live it up without wondering if you'll be able to have a hot shower at night. The glamping cabin accommodations are insane! It's basically a really tiny five-star hotel in the woods with all of the amenities you could even need. Wi-Fi included. But for some, camping is still something that is supposed to be enjoyed while off the grid. There are tons of off grid yurt options for those who want to disappear off the radar for a while. Off grid living can be epic if it's something you are interested in. It gives a person time to connect with the world around them, the silence, the peace and quiet that camping offers, but in a way that comfort doesn't have to be sacrificed. Off grid living on a plot of land is ideal for people who value peace and tranquility and want to live close to nature. Think about not having to pay an electricity bill ever again!
But wait, there's more! In my quest to write this article I accidentally stumbled across some seriously amazing glamping accommodations. A serious contender to an off grid yurt has got to be the glamping treehouse. Yes, that's right. Treehouse. First of all, who the heck doesn't want to hang out (literally) in a treehouse? No one. As kids we all fantasised about treehouses, there's just something magical about the whole idea of spending time up in the branches and leaves with the birds. Well, now you can do it without having to beg your dad to build you one every weekend until he gets fed up and slaps some 2×4's and plywood together and shoves it into the closest tree in the backyard. Glamping treehouses have got to be one of the most fun ways to experience glamping. Some glamping treehouses even have a fireman pole to slide down! How cool is that?! The same as a yurt, you've got everything you need in one spot in a natural setting. Imagine the special atmosphere of intimacy and cosy wilderness in a treehouse or yurt when darkness falls and the stars shine.
We all love camping… or at least the idea of camping. Whether you want to go for the full-on off grid holiday solo, with the person you love, family, or a group of friends with guitars, the time has come to consider doing it in style. It's guaranteed to be a long-lasting memory no matter how you choose to go about it. And it is definitely something everyone should try at least once. There are so many locations available to rent a yurt, cabin or treehouse, and with the popularity of glamping really picking up we can expect to see more and more locations popping up all over the place. Other glamping accommodations include pods and domes. Camping doesn't have to only be a summer thing anymore! If it's cold, just turn on the heat or stoke the fire a bit. If you cook some delicious food and want to save leftovers, then forget the cooler and the ice you forgot to pick up and put it in the fridge! Welcome to the 21st century my friends, camping has undergone a major facelift and now even the most miserable and needy camper can find comfort and relaxation in the woods or by the lake. Now you can camp in complete luxury with all of the comforts of home plus the sought-after enjoyment of the outdoors.