11
May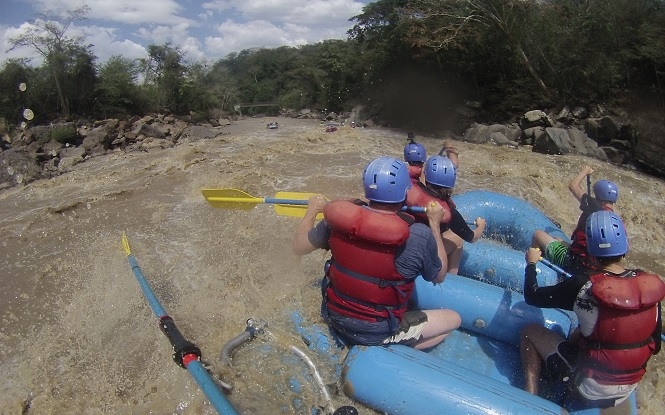 Never Bite Off More Than You Can Chew When You Travel!
On my tour around Colombia I decided to visit San Gil, the country's adventure sports capital. I wanted to try something that I had never done before and get my adrenaline pumping after several weeks of fairly relaxed travel. San Gil is home to a large variety of sports activities including; paragliding, zip-lining, bungee jumping, caving, mountain biking, rappelling, rafting, kayaking and white water rafting. After mulling over all the activities for an evening I decided to go white water rafting with a tour company called Colombia Rafting Expediciones (CRE). They offered several tours, from the serene Fonce River or Chicamocha River, to the powerful Suarez River. I opted for the latter for the adrenaline rush and mental challenge.
I made my way to the CRE office on the morning of the tour and completed the liability waiver. I acknowledged that I could swim in order to do the tour. The truth is I am not a strong swimmer and would even describe myself as being apprehensive in water. The group were taken to the start of the tour on the Suarez River. After a safety briefing and instructions from one of the rafting guides the tour group was divided in three and handed helmets, paddles and life jackets. My rafts guide promised us an "unforgettable experience" and he was not wrong! Our raft flipped over on one of the grade 3 rapids! We were advised to stay calm if this happened but I become disoriented in the churning rapids and I swallowed a little water. I managed to make my way to the surface and to my relief the raft was within arm's reach. I grabbed onto it while still gasping for air. I was eventually pulled out of the water by the crew of another raft. I was really shaken up and could not believe the unthinkable had happened. Everyone in my raft looked traumatized right after except for the guide! I asked to stay in the 'rescue' raft because I had more confidence in the guide and the crew. This raft had CRE's most the experienced guide and no one knows River Suarez as well as Nestor, the trip leader. Then came the startling reality of the situation, we had capsized on grade 3 rapids, Suarez River is a monster of a river with class 4 and 5 rapids. Class 5 rapids will challenge even the most expert rafters. Class 4 and 5 rapids were up next! My stomach was churning as we approached all the remaining rapids and am not afraid to admit, I was a little scared. I did not really want to go ahead with this adventure but there was not the option of getting off the raft. I was forced to confront fear and face the white-knuckle raft ride of my life! I have never listened to a guide more attentively or paddled so hard. You have to work as a team to conquer white water rapids. We did make it to our destination without any further mishaps. I have never felt so relieved or glad to be back on terra firma. The sense of achievement that comes from running the wildest white water in Colombia came much later.
The moral to the story is to never bite off more than you can chew when you travel (e.g. do not try to do something that is beyond your capabilities). I should have opted for a white water rafting tour with class 1 and 2 rapids or chosen a different sports activity. It was foolish to put myself in a potentially life-threatening situation as a weak swimmer. Two of my most challenging moments in Latin America have involved water. I should have vividly remembered that afternoon in Puerto Jiménez, Costa Rica, before choosing another water-based outdoor activity! In no way was CRE to blame for the capsizing, rafts can potentially flip over in class 3, 4 or 5 white water rapids. CRE are a really professional tour company and their guides are certified by recognized bodies. I would definitely recommend trying this experience if you are adventurous and comfortable in the water.